Your Heating and Air Conditioning Repair in Gonzales, LA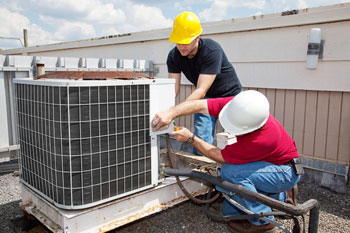 Temperature Controls Inc in Gonzales, LA has a team of factory trained technicians, offering free in-home estimates and providing a number of services to keep your home or business environment comfortable year-round.
Residential Repairs
Our HVAC team provides any type of residential heating and cooling repair. If your furnace is blowing cold air, not warming the house enough, has a bad odor, or isn't running at all, Temperature Controls Inc will make any repair you need, from a bad wire or blown fuse to replacing the motor or other large parts. If you're sweating out the summer because your air conditioning isn't getting cold enough, is running constantly, or doesn't turn on at all, our expert cooling professionals will refill the coolant, fix a bad wire, replace the blower motor or compressor, or make any other repair you need to make your home comfortable again.
Commercial Repairs
Temperature Controls Inc. also offers commercial repairs, customizing our services for commercial equipment. Whether you have a rooftop unit, multiple thermostat controls, or any other complex commercial product, we'll ensure your furnace or air conditioning unit is running properly so you and your employees stay comfortable at all times.
Installation & Replacement
When you're building a new home or commercial building, our Gonzales HVAC technicians will install brand new, energy efficient furnaces, air conditioning units, thermostats, ventilation systems, air purification systems, and anything else you need to maintain a comfortable environment. There comes a point when every home or business owner will have to replace their furnace or air conditioning unit. We'll replace your worn, outdated unit with a brand new energy efficient one for a competitive, affordable price.
Planned Maintenance Agreements
Temperature Controls, Inc. also works with planned maintenance agreements for homes and businesses to ensure your unit is working properly, maintaining energy efficiency, and to avoid major repairs. Semi-annual, annual, quarterly, and monthly agreements are available. Maintenance includes cleaning the air duct system, changing the filters, cleaning the coils and other parts of the unit, checking the coolant levels and refilling if necessary, lubricating parts when needed, and inspecting for optimal energy efficiency and the need for repairs. We work with all makes and models, as well as extended service agreements.